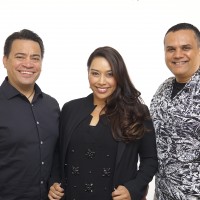 It's HammerTime weekday mornings starting at 4:55am; Saturday mornings 6a-12noon; and Sunday mornings 7am-11am! 
You Just Got Hammered!



HammerTime Archive

School of the Day



School Of The Day Archive


Aunty's StoryTime!



StoryTime! Archive

Video of the Day


Ariana Grande and John Legend's "Beauty and the Beast" video. The pair's duet is a revitalized version of the song for Disney's live action Beauty and the Beast film starring Emma Watson

Entertainment



Gregg Hammer: A Biography
Despite speculation to the contrary, Gregg Hammer was born. He grew up in Waipahu. He currently serves on the pastoral staff at Christ Centered Community Church and lives in East Honolulu with Shawnee and their daughter Zoë. He also has 2 grown sons, Jon and Skylar. Gregg has a passion for American muscle cars and motorcycles!

Shawnee Hammer: A Biography
Shawnee Hammer has lived in Hawaii for over 18 years. Originally from Oregon, she came to Hawaii to pursue higher education and fell in love with not only the islands but also her husband, and on-air co-host, Gregg Hammer. Shawnee and Gregg have been married for 14 years. She loves to spend time with her family, fashion, trying new restaurants, hiking and serving in their Church and community.
Davey D: A Biography
Davey D hails from Waimanalo, O'ahu. He lives in Kane'ohe on the beautiful windward side. He has been a radio broadcaster for nearly 25 years in Hawai'i and hosts the TV show Overdrive Live on OC16. He loves to spend time with his wife of 23 years Kandice & their daughter Daisy. Currently they are enrolled in Kealaleo papa 'olelo Hawai'i. When they're not watching movies and kicking back at home, they serve their community through their church - New Hope Windward.